Masterclasses 

with Sri H.S Arun
Samamkaya is proud and honored to welcome back Sri H.S. Arun for his 5th visit to our beautiful studio! Arunji has practiced and taught the art and science of yoga in India for more than 35 years. He has been touring the US annually since 2005. Arunji's teaching is simple, direct, and effective, while his wit and humor lend a positive energy to his classes. The endless variety in his sequences, based on a solid knowledge of the Iyengar tradition, allows students to explore the many facets of Iyengar yoga. Arunji uses many props in his teaching to assist in working with the asana, and has become known as "The Chairmaster"!
Each class will include an asana practice and a discussion about the art and practice of yoga. During his workshops students will experience a full understanding of a wide spectrum of asanas including standing poses, forward-folds, twists, inversions and backward bends. Especially for Samamkaya, Arunji may cover topics like spinal asymmetry, back problems, and other therapeutic issues. This is a unique opportunity to study with a warm, devoted, and knowledgeable master teacher!
One year of yoga practice required. No acute injuries please.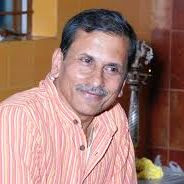 SRI H.S. ARUN began teaching yoga in 1976. He conducted a class in the presence of B.K.S. Iyengar in 1978 which inspired a lifelong study with Guruji. He is the Founder and Principal Instructor at the Prashant Yogashraya in Bangalore, India. Arun is known for taking a personal interest in every student he encounters. He quickly develops an understanding of each student's particular strengths and weaknesses and skillfully guides them according to their capabilities. Arun's students appreciate him for his ability to connect and teach from the heart, as well as for his quick-witted sense of humor. His workshops offer a well balanced, challenging, deep, (sometimes restorative) and powerful class. He is very attentive to every student in the room. During his workshops students will experience a full understanding of a wide spectrum of asanas including standing poses, forward-folds, twists, inversions and backward bends. Active use of props is a dominant theme in Arun's practice.

HYBRID

 

Relieve Jaw Tension with Yoga & Mindfulness

 with Cator Shachoy
October 15 & 16
Saturday 2:30–5:30pm ET
Sunday 9:30am–12:30pm and 2:30–4:30pm ET
Saturday or Sunday morning only: $55*/$60
Sunday afternoon only: $35*/$40
Full Workshop: $130*/$140
*early bird if registered by October 3
Did you know your jaw is connected to your shoulders? Your hips?? And even your feet???
But most significant is the intimate connection between your brain and jaw. From an evolutionary view, the oral cavity and TMJs are so essential to your survival — as well as your ability to thrive — that nearly half of the sensory and motor aspects of your brain are devoted to the dental area. This means your brain is hardwired to keep close tabs on your mouth. Whatever is — or is not — happening in your mouth is continually impacting the rest of your body through brain functioning.
Join us as we explore how to relieve jaw tension with yoga & mindfulness. Class time includes a lecture/ discussion of the causes and repercussions of jaw tension that can manifest throughout your body. This understanding lays a foundation for our mindful awareness and yoga practice. Through experiential anatomy, mapping your personal tension pattern, applying core actions, yoga poses, facial self-massage, and guided meditations you will gain a well-rounded tool bag for working with jaw tension and pain. If you clench or grind, this workshop is for you!
Classes can be taken independently, though Day 2 will build on information shared during Day 1, so participating in the full weekend is recommended!
**Jaw Tension can be a factor in many conditions including headaches, sinusitis, sciatica, digestive and hormonal disorders. Come and learn why this is so, and how to bring relief.
TMJ 1: Understanding Jaw Tension—Saturday afternoon
Learn about cause & effect within your body & your life
Lecture with powerpoint on what causes jaw tension and its repercussions

Core actions & asana sequence to bring relief

Guided Meditations
TMJ 2: Mapping Your Personal Tension Pattern—Sunday morning
No one has a perfectly balanced jaw – or body. We can still find symmetry within
Refining awareness of body structure & midline

Creating a personal body map

Core actions, asana & mindfulness
TMJ 3: Rewiring Your Nervous System to Relieve Jaw Tension—Sunday afternoon
Your jaw and your nervous system are intimate partners. De-escalation = Restoration
Gentle, safe self-massage techniques to relax the face and jaw

Restorative yoga to soothe frayed nerves

Pranayama & Breath Awareness
Cator Shachoy began the practices of yoga, Buddhist meditation, and energy healing in 1990 to heal chronic illness. Through the regular practice of these disciplines, she regained her strength and vitality. For Cator, spiritual growth and development is a healing path inviting us to become more intimate with everything. Her practices of Buddhism, Energy Healing, Yoga and conscious body movement are deeply integrated. Cator is a CIAYT yoga therapist, MBSR Mindfulness teacher and Visionary Craniosacral Work practitioner. She completed teacher training at the Iyengar Yoga Institute of San Francisco and Kripalu, and studied extensively with Bay area senior Iyengar teachers for 25 years. Cator lived in Buddhist and spiritual communities for three years, and has spent a cumulative total of over five years in intensive silent meditation retreat. Her primary meditation teachers are Ajahn Pasanno, Mingyur Rinpoche and Ruth Denison. Cator has a certificate in Buddhist Chaplaincy from the Sati Center. She began teaching in 1996. Currently she has a private practice incorporating craniosacral, therapeutic yoga and mindfulness and teaches internationally. Her book, The TMJ Handbook: A Therapeutic Guide for Relieving Jaw Tension and Pain with Yoga & Mindfulness will be available from Shambhala publications Spring 2023.    www.catorshachoy.com / www.youthyogadharma.org

Extension & Expansion: Iyengar Yoga for Optimum Spinal Health

with Susan Elena Esquivel
Hybrid Workshop In-Studio and Online
November 5-6, 2022
Saturday 9am – 12pm and 2:30-4:30pm EST
Sunday 9am-12pm EST
Full Weekend: $170 in Advance | $155*
Both Morning Sessions: $130 in Advance | $120*
One Morning Session: $75 in Advance | $65* | $85 Drop In
Saturday Afternoon Session: $50 in Advance | $45* | $60 Drop In
*Early Bird if Registered by October 3
Join Susan Elena for this 2 day workshop at our beautiful studio in New York City!
Have the effects of gravity left you feeling shrunken, compressed, or dull? We will explore ways to defy gravity and create more space for energy and breath to flow, optimizing the health of your spine. This workshop will combine a variety of poses including supported and active backbends, as well as pranayama to improve the health of the organic body and spine.
Saturday, November 5: 
Morning – Standing Tall: Core and Pelvic Floor – Preparatory work in this session will focus on developing a strong foundation and improved posture by working with our legs, hips, knees, lumbar spine, and core. We will also address the pelvic area and work with poses that lift and strengthen the pelvic floor, supporting the organic body and providing ease in balance and a maximum elongation & strengthening of your spinal muscles.
Afternoon – Opening Up New Horizons: Shoulders and Thoracic Spine – Come discover your armpit chest, which Geeta Iyengar calls the "Pranic Storehouse!" When our armpits are lifted, so is our spirit. We will maximize mobility, release tension, and create freedom in the shoulders, neck, and chest in order to re-discover that wonderful lightness of being.
Sunday, November 6:
Morning – Longitudes and Latitudes: Uniting the Four Corners of the Body – The alignment of the four corners—hips and the shoulders—supports the health of the spine and ease of the breath. Muscles all around the spine and rib cage are gently stretched and massaged through deep breathing. Your back muscles get a gentle stretch, your discs rehydrate, and the circulation around your spinal tissues improves—simply by breathing more deeply. We will explore both passive and active poses as a means to integrate the body with the nourishing energy of prana or breath.
Susan Elena Esquivel is a Certified Iyengar Teacher (CIYT) at the Intermediate Junior II Level and a Certified Yoga Therapist (C-IAYT). She is the Director of the Iyengar Yoga Center of Western Massachusetts. She served on the Iyengar Faculty at Down Under Yoga in Boston from 2015 – 2020. Her teaching is a reflection of her focused practice and studies over many years. She is known for precision while taking a playful approach with skillful sequencing to all levels of study allowing each student to go deeper into the understanding of Iyengar yoga. Susan Elena has served on the Iyengar Yoga Association of New England Board since 2015 and is currently the Vice President.
Susan Elena is very fortunate to have built strong mentoring relationships with some of the most highly respected senior Iyengar teachers. The four senior teachers she is deeply indebted to and influenced by are Elise Browning Miller, Peentz Dubble, Patricia Walden and Gulnaaz Dashti. Currently, she continues her weekly studies Gulnaaz Dashti, Uday Bhosale and mentorship with Certified Advanced Senior Teacher Patricia Walden.  Her ten year apprenticeship with Elise Browning Miller furthered her knowledge of scoliosis and back care. She travels to Pune, India to regularly to work with the Iyengars and Gulnaaz Dashti.
In-Person and Online!

YOGA FOR SCOLIOSIS:  Beginners · Teacher Training Part II and Continuing Education 


with Elise Browning Miller
Yoga for Scoliosis Beginners
Friday, December 7, 6–8pm
*$65 early bird / $70 in advance / $75 drop in
Sign up here for IN-PERSON
Sign up here for VIRTUAL

*early bird if registered by November 21
New to Yoga?  Want to get started addressing your Scoliosis with Yoga?  Come to this 2 hour session with Elise Browning Miller, especially for those new to this practice.  Elise is the author of the booklet and DVD Yoga For Scoliosis, and is world famous for her workshops and Teacher Training for Yoga for Scoliosis and Yoga for Back Care.  Most of the teachers at Samamkaya have trained with her and we all love her!  
Yoga for Scoliosis: Teacher Training Part II and Continuing Education
Saturday, December 10, 9:30am‒12pm & 2–4:30pm
Sunday, December 9, 9:30‒12pm & 2–4:30pm
*$325 early bird / $350 in advance
Sign up here for IN-PERSON
Sign up here for VIRTUAL

*early bird if registered by November 21
Many of Samamkaya's faculty have completed Elise Browning Miller's 20 hour course program and we highly recommend it for teachers and students alike. The Yoga for Scoliosis Teacher's Training is the first teacher's training program designed specifically to train yoga teachers on how to work with students who have scoliosis. This course may lead you to do the coursework and practicum for a Yoga for Scoliosis Trainer Certification.
Samamkaya is proud to present Yoga for Scoliosis Teacher Training Part II and Continuing Education.  Anyone may attend this workshop.  If you want to take Part II towards certification you must have taken Part I with Elise Browning Miller at another time.  This particular course is also appropriate for those who have already done the Teacher Training with Elise in full but who would like to prepare or receive support for their practicum, or those who are certified trainers who would like to learn more.
Samamkaya is the ideal location for this workshop.  Well stocked with props and outfitted with a 20 station rope wall, the workshop will be limited to 20 students.  Questions that have come up in teaching will be addressed in an intimate and supportive environment.  This workshop will continue beyond Part II into more techniques and real life solutions than Part II at other locations.
During this course teacher trainees will learn:
     

The anatomy and physiology of scoliosis.

     

The common scoliotic patterns.

     

Patterns of injury and pain with scoliosis,

     

Yoga Asana to address scoliotic patterns which will help reduce progression, pain and discomfort, and perhaps even the curve(s) themselves.

     

About other patterns that often accompany scoliosis; such as hip and shoulder problems, neck problems, and disorientation.

     

How to give verbal and hands-on adjustments to your students with scoliosis.

     

How to use Yoga Props to specifically address scoliotic patterns and related issues.

     

Addressing psychological aspects of scoliosis.

     

How to work with your own students with scoliosis
Elise Browning Miller, M.A. in Therapeutic Recreation from UNC-CH, is a Certified Senior Iyengar Yoga Teacher who has been teaching yoga throughout the US and internationally for over 30 years. A founding director of California Yoga Center in Mountain View, CA, Elise has successfully used yoga to minimize the effects of her own scoliosis. She has published numerous articles on scoliosis and other yoga related subjects in Yoga Journal and other national magazines. Elise has studied on numerous occasions with the Iyengars in India and specializes in Scoliosis, lower/upper back problems and sports related injuries. She recently launched her new book "Yoga for Scoliosis – A Path for Students & Teachers", and has produced her own DVD and booklets, "Yoga for Scoliosis", "Yoga for Back Care" and her "Yoga: Anytime, Anywhere book". Her joyous personality and ease of communication endear her to students with a teaching style that is down-to-earth, precise and nurturing.

WORKSHOP PRE-REGISTRATION & CANCELLATION POLICY
It is strongly recommended that you pre-register for workshops. If you pre-register for a workshop, you must cancel either 1 week or 48 hours in advance (depending on the workshop), in order to be refunded for that workshop less a 20% administrative fee. Cancellation deadlines can be found below the workshop descriptions above.
Please cancel via email (info@samamkayabackcare.com) or call 646.964.5772. Even if we receive the message later, we will go by the time stamp and refund your money if appropriate. If you are ill or there is an immediate family medical emergency, we will of course waive the fee. However, please email us as early as possible, and before the workshop begins, to waive the fee or arrange a credit.